Aarogya Setu app corona tracker app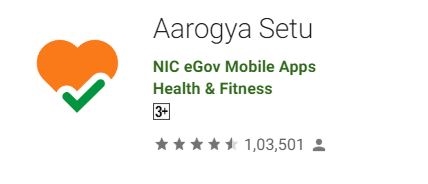 Aarogya Setu corona tracker app
Aarogya Setu is a mobile application developed by the Government of India to connect essential health services with the people of India in our combined fight against COVID-19. The App is aimed at augmenting the initiatives of the Government of India, particularly the Department of Health, in proactively reaching out to and informing the users of the app regarding risks, best practices and relevant advisories pertaining to the containment of COVID-19.
The Government of India has launched the Arogya Setu App a few days ago to save people from the infection of Corona. More than two crore people have downloaded the Arogya Setu app in just 7 Days. Arogya Setu is a corona tracker app that prevents users from entering suspicious areas. This is a location based corona virus tracker app.
Download the Aarogya Setu App
Aarogya Setu App, for free from Google Play Store and Apple's App Store. In this app, one has to register with the mobile number. After this the app will warn against danger from corona depending on your location. This app also has 'Self Assessment Test' feature with the help of which you can tell the symptoms and find out about the risk of infection with Corona virus.
This app also tells whether you need to get a test and contact a doctor based on the symptoms you have indicated. All the territories and central helpline numbers issued for the corona have also been given in the app.